waterways alberon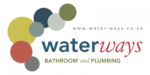 Long Business Description:
Waterways Alberton is a store of the Waterways retail brand. It is located in the Alberton Lifestyle Centre in Alberton. The contact person of this particular store is LeRoux Seegers
Waterways is a collective of individual stores that have been trading in the industry for more than 8 years. They company has about 90 years of combined experience. They view their relationships with their suppliers, clients and employees as a circle of trust, and their logo is symbolic of the style of their business ethos which is to be solid, connection and principled.
Their aim is provide all of their valued customers with a selection of exceptional quality products at competitive prices. Their guarantee to all their clients is that they provide immeasurable support and they extend their advice.
Waterways is continuously looking for new, exciting and innovative products that will add value to the projects of their clients, and which will offer interesting alternatives and choices. For their retail customers, they offer a wide range of local and international brands, which they ensure all come with the necessary warranty's and almost always with the SABS mark of approval.
Waterways does have showrooms which are designed to cater for the retail customer but they also have trade counters to accommodate all in the industry.