edenvale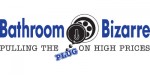 Long Business Description:
Bathroom Bizarre Edenvale is part of the Bathroom Bizarre sanitaryware supplier chain. It is a well-established South African sanitaryware supplier. The company was founded in 1995. This family business has rapidly grown into one of South Africa's foremost and trusted sanitaryware suppliers. Their success is based on their combined insight of the industry and a keen business sense. Bathroom Bizarre has a nationwide footprint, with over 26 stores located around the country. In its advertisements, the company always boasts its low prices and great service. Bathroom Bizarre currently offers one of the widest ranges of sanitaryware in South Africa. The company stocks a wide variety of sanitaryware which is both imported and manufactured locally. Its current product selection consists of a wide selection of taps, baths, shower doors, sinks, toilets, bidets, basins, bathroom mirrors, furniture and accessories.

Long Business Description:
Plumbing Supplier in Edenvale, Gauteng
CNR Van Riebeeck ave & Dewet Str
Edenvale
About Bathroom Boyz Edenvale, Gauteng:
Bathroom Boyz Edenvale is an online and offline bathroom supplies shop that offers turnkey projects at reasonable prices. They offer renovations as well. Bathroom Boyz can do the following:
Building (moving windows, doors and general building work)
Plumbing (moving pluming and adding new points)
Tiling
Fitting of all fixtures (e.g bath, basin toilet and shower)
Ceilings and Cornices
Painting (ceilings, cornices, windows and doors)
Electrical (installing heated towel rails and moving other appliances)
Bathroom Boyz does currently not service the Westrand and Pretoria area. Contact the for their service areas.