classic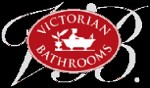 Long Business Description:
The Victorian Bathrooms Wynberg showroom has been relocated from their Wetton showroom. As it stands, this facility is the largest of their stores. It is filled with glamorous bathroomware, bathroom accessories and ceramics. They also sell a range of plush gowns and cotton toweling as well as a selection of imported scents and soaps.
The Victorian Bathrooms Wynberg Showroom is in a tranquil garden setting that offers plenty of off-street parking and the showroom. The showroom even has a coffee shop in the courtyard.
About the company:
The company was formed in 1989. It was founded to supply the local area with traditional bathroom products, since there was none available. Victorian Bathrooms started off by collecting, restoring and manufacturing products that were once discarded and irreplaceable. As soon as it was feasible, the company started manufacturing their own products that replicated their predecessors but used modern technology. The bathroom supplies are manufactured locally but the others are sourced internationally. Victorian Bathrooms is now know as one of the worlds specialist suppliers of luxury bathrooms in the classic style.