bellville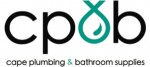 Long Business Description:
CP&B Bellville is part of CP&B, which is a plumbing and bathroom supplier in Cape Town and the surrounding areas. They offer a wide range of sinks, taps, bathtubs, pipes, showers and so much more.The company was founded by a team of partners who have over 100 years worth of experience put together. They are committed to providing their customers with quality brands according to the customer's taste and budget.

Long Business Description:
Plumblink Bellville is part of the Plumblink chain of plumbing stores around the country. It offers plumbing materials and accessories, bathroom products, kitchen ware and plumbing supplies. It offers a wide range of products to the private- and public sectors such as airports, churches, government buildings and residential buildings. Plumblink was founded in 1911 and it is still going strong.